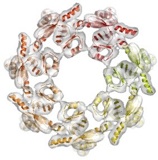 Review of cryo EM basic principles:
Orlova & Saibil, Chem Rev 2011

The Saibil group studies the operation of macromolecular machines using three-dimensional electron microscopy. Our research projects are in the areas of molecular chaperones and assisted protein folding/unfolding, misfolding into amyloid, and protein refolding in membrane pore formation. On the cellular side, we are studying these processes in host cell interactions with intracellular pathogens. Our studies use single particle cryo-electron microscopy and electron tomography of isolated complexes, irregular assemblies and cell sections. In collaborative work, we combine these EM studies with fluorescence and atomic force microscopies.